What is bmi calculator?
BMI Calculator is FREE computer program which calculates your Body Mass Index and Basal Metabolic Rate and tell you if you are underweight, normal, overweight or obese and tells you the amount of calories your body uses to maintain the weight. Those kind of informations are important to have on hand for any dieting plan. BMI Calculator is desktop computer program - its advantage over online BMI and BMR calculators is that it is installed on your computer, you can access it without internet connection, it is lightweight and fast and you can put it on USB or removable disk, and it calculates BOTH - BMR rate and BMI index. This free little program is my effort to help fight growing obesity problem caused by modern way of living.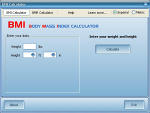 BMI means "Body Mass Index" (BMI). It is a number derived from your height and weight. BMI often indicates overweight problem and can be usefull in determining potential health risk. Typically, a BMI index between 20-25 is considered normal and healthy.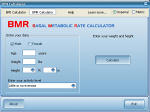 BMR means "Basal Metabolic Rate " (BMR). It simply represents the number of calories your body uses for maintaining energy level through a day.
random advice
Do not take BMI calculations too seriously. There are various body types and individual metabolic rates that BMI does not takes into account. Use BMI as a starting point to gauge your overall body composition. After all, nothing beats good old mirror.
NEWSFEEDS
Gut bacteria may affect obesity risk in youth
Children and adolescents who are obese have different populations of gut microbes compared with youths of a normal weight, new research finds.
Diet and exercise may improve physical function and quality of life in older obese adults
A recent review and analysis of published studies since 2005 found low-to-moderate evidence that dietary and exercise interventions can improve physical function and quality of life in older adults...
Weight loss following bariatric surgery sustained long-term
Obese patients who underwent Roux-en-Y gastric bypass (RYGB) lost much more weight than those who did not and were able to sustain most of this weight loss 10 years after surgery, according to a...
Cosmetic Surgery: Would You? Have You?
Earlier this year the FDA approved the use of silicone gel-filled breast implants after years of health concerns. This comes at a time when cosmetic surgery has never been more popular. Would you undertake a cosmetic surgery procedure? Why? If you have had surgery - what have you gained from it?...
'Deeply-unsettling' weight discrimination in the workplace highlighted
Women face weight-based prejudice in the workplace - even when their body mass index (BMI) is within the healthy range, research led by a University of Strathclyde academic has found.