What is bmi calculator?
BMI Calculator is FREE computer program which calculates your Body Mass Index and Basal Metabolic Rate and tell you if you are underweight, normal, overweight or obese and tells you the amount of calories your body uses to maintain the weight. Those kind of informations are important to have on hand for any dieting plan. BMI Calculator is desktop computer program - its advantage over online BMI and BMR calculators is that it is installed on your computer, you can access it without internet connection, it is lightweight and fast and you can put it on USB or removable disk, and it calculates BOTH - BMR rate and BMI index. This free little program is my effort to help fight growing obesity problem caused by modern way of living.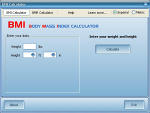 BMI means "Body Mass Index" (BMI). It is a number derived from your height and weight. BMI often indicates overweight problem and can be usefull in determining potential health risk. Typically, a BMI index between 20-25 is considered normal and healthy.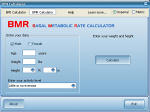 BMR means "Basal Metabolic Rate " (BMR). It simply represents the number of calories your body uses for maintaining energy level through a day.
random advice
Diets that requires minimal intake of fat with moderate carbohydrate intake are usually considered as traditional diets. Those diets requires precise calorie counting and lasts longer than ketogenic diets, for people tolerant to carbohydrates this may be a diet of choice
NEWSFEEDS
Cosmetic Surgery: Would You? Have You?
Earlier this year the FDA approved the use of silicone gel-filled breast implants after years of health concerns. This comes at a time when cosmetic surgery has never been more popular. Would you undertake a cosmetic surgery procedure? Why? If you have had surgery - what have you gained from it?...
Short walks after meals may prove important tool in managing diabetes
New research from New Zealand's University of Otago suggests that people managing type 2 diabetes should walk after meals to gain the greatest blood sugar-lowering benefits.
The Karl Lagerfeld Diet
Karl Lagerfeld is a fashion designer. He is currently the chief executive of design at the House of Chanel. The world of diets is a strange one, and Lagerfeld added his contribution in 2002. After a massive weight loss of 92 pounds he decided to write his own diet book: The Karl Lagerfeld Diet. He has managed to keep...
Mom's pre-pregnancy BMI may affect newborn's lifespan
Women who have a higher BMI before pregnancy are likely to have newborns with shorter telomere length - a biomarker for biological age, says new research.
Subway to Sell Pizza
Subway is about to roll-out personal-sized pizza in it's 13,000 outlets. This is a strange move given all the hype about Subway's "healthier options". Recently I compared Subway and McDonald's and felt that Subway did offer the better options. Now I'm not so sure....