What is bmi calculator?
BMI Calculator is FREE computer program which calculates your Body Mass Index and Basal Metabolic Rate and tell you if you are underweight, normal, overweight or obese and tells you the amount of calories your body uses to maintain the weight. Those kind of informations are important to have on hand for any dieting plan. BMI Calculator is desktop computer program - its advantage over online BMI and BMR calculators is that it is installed on your computer, you can access it without internet connection, it is lightweight and fast and you can put it on USB or removable disk, and it calculates BOTH - BMR rate and BMI index. This free little program is my effort to help fight growing obesity problem caused by modern way of living.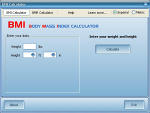 BMI means "Body Mass Index" (BMI). It is a number derived from your height and weight. BMI often indicates overweight problem and can be usefull in determining potential health risk. Typically, a BMI index between 20-25 is considered normal and healthy.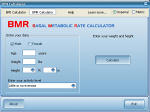 BMR means "Basal Metabolic Rate " (BMR). It simply represents the number of calories your body uses for maintaining energy level through a day.
random advice
In general, modern diets for reducing weight can be categorized in low-carb/high-fat and hi-carb/low-fat diets, each of them having many variations.
NEWSFEEDS
Is Yoga a Helpful Treatment for Fibromyalgia?
Learn how yoga might help with fibromyalgia and which additional approaches may help. What are the causes, risk factors, and symptoms of fibromyalgia?
Antioxidant found in breast milk prevents liver disease, study finds
Antioxidants may prevent against chronic illnesses. A new study suggests that a common antioxidant protects against nonalcoholic fatty liver disease.
Fatty liver: Protein discovery may offer new treatment target
Researchers find that mice low in CPEB4 protein develop fatty liver as they age and that the protein plays a key role in the liver's stress response.
Gastric bypass helps severely obese teenagers maintain weight loss over long term
Two studies show surgery leads to significant weight loss and health benefits over 5-12 years, but may lead to more surgery and vitamin deficiency in some.
Diet drinks not 'diet' after all
A new review of existing research finds 'no solid evidence' that diet drinks are any better for weight management than full-sugar drinks.