What is bmi calculator?
BMI Calculator is FREE computer program which calculates your Body Mass Index and Basal Metabolic Rate and tell you if you are underweight, normal, overweight or obese and tells you the amount of calories your body uses to maintain the weight. Those kind of informations are important to have on hand for any dieting plan. BMI Calculator is desktop computer program - its advantage over online BMI and BMR calculators is that it is installed on your computer, you can access it without internet connection, it is lightweight and fast and you can put it on USB or removable disk, and it calculates BOTH - BMR rate and BMI index. This free little program is my effort to help fight growing obesity problem caused by modern way of living.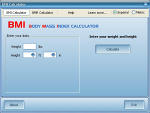 BMI means "Body Mass Index" (BMI). It is a number derived from your height and weight. BMI often indicates overweight problem and can be usefull in determining potential health risk. Typically, a BMI index between 20-25 is considered normal and healthy.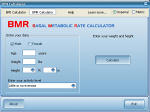 BMR means "Basal Metabolic Rate " (BMR). It simply represents the number of calories your body uses for maintaining energy level through a day.
random advice
You can speed up your metabolism with training. For dieting, having a slower but longer activity is usually better than quick burn off. Speed walk is great.
NEWSFEEDS
Experimental drug reverses obesity-related liver disease
A drug developed at the University of Rochester Medical Center protected mice from one of the many ills of our cheeseburger and milkshake-laden Western diet - non-alcoholic fatty liver disease.
Valerie Bertinelli: Jenny Craig Endorsement
Jenny Craig have signed up another celebrity endorsement deal - this time with TV actress Valerie Bertinelli (One Day at a Time, Touched by an Angel). Bertinelli aims to lose 30lbs with the Jenny Craig program and will feature in commercials along with Kirstie Alley - as well as having her own blog. How credible are celebrity-endorsed weight loss...
Subchondral bone cyst: Causes, treatment, and symptoms
What is a subchondral bone cyst and what is the link between subchondral bone cyst and osteoarthritis? What are the risk factors and how is it treated?
Green tea compound may reduce the harms of a Western diet
A Western diet has been linked to obesity, insulin resistance, and memory impairment. A green tea compound may help to offset these effects, study finds.
Study identifies enzyme that protects cells from toxic fat
A new study from Harvard T.H. Chan School of Public Health and Howard Hughes Medical Institute sheds light on how a key fat-producing enzyme helps protect cells from a toxic form of fat.