What is bmi calculator?
BMI Calculator is FREE computer program which calculates your Body Mass Index and Basal Metabolic Rate and tell you if you are underweight, normal, overweight or obese and tells you the amount of calories your body uses to maintain the weight. Those kind of informations are important to have on hand for any dieting plan. BMI Calculator is desktop computer program - its advantage over online BMI and BMR calculators is that it is installed on your computer, you can access it without internet connection, it is lightweight and fast and you can put it on USB or removable disk, and it calculates BOTH - BMR rate and BMI index. This free little program is my effort to help fight growing obesity problem caused by modern way of living.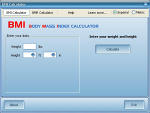 BMI means "Body Mass Index" (BMI). It is a number derived from your height and weight. BMI often indicates overweight problem and can be usefull in determining potential health risk. Typically, a BMI index between 20-25 is considered normal and healthy.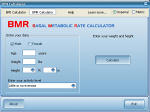 BMR means "Basal Metabolic Rate " (BMR). It simply represents the number of calories your body uses for maintaining energy level through a day.
random advice
Diets that requires minimal intake of fat with moderate carbohydrate intake are usually considered as traditional diets. Those diets requires precise calorie counting and lasts longer than ketogenic diets, for people tolerant to carbohydrates this may be a diet of choice
NEWSFEEDS
Mediterranean Diet Helps With Allergies?
New research suggests that a Mediterranean-style diet could offer protection from asthma and allergic rhinitis. Why do children in some parts of Europe, such as the UK, get asthma while others, in places like Crete, do not?...
Experts define obesity as a disease
In a consensus statement, the World Obesity Federation argue that obesity is a chronic, progressive, relapsing disease with food as the primary agent.
Where body fat is carried can predict cancer risk
Scientists have found that carrying fat around your middle could be as good an indicator of cancer risk as body mass index (BMI), according to research published in the British Journal of Cancer.
How To Find Healthier Pasta
WebMD have compared various brands of pasta - in particular those that use whole wheat and have a higher fiber content. Whole wheat pastas are made from durum wheat. Durum is the second-most widely cultivated wheat species (after common wheat). The whole-wheat pastas tend to have a higher protein content (7g to 10g per 2 ounce dry serving)....
Energy... Fueling the Body for Life with Melanie McQuaid
Melanie McQuaid, a three-time Xterra champion and triathlete, talks about her sport, her training, and the food she uses to fuel her body for success. Originally from Victoria, BC, Melanie has raced at the highest level and has represented Canada at 10 World Championships for three different events, taking top spot to become World Champion in 2003. She understands the importance of eating a healthy, well-balanced diet, in order to ensure she always attains peak performance. Listen here to find out how she does it, and how you can make the right choices to stay at the top of your game.