What is bmi calculator?
BMI Calculator is FREE computer program which calculates your Body Mass Index and Basal Metabolic Rate and tell you if you are underweight, normal, overweight or obese and tells you the amount of calories your body uses to maintain the weight. Those kind of informations are important to have on hand for any dieting plan. BMI Calculator is desktop computer program - its advantage over online BMI and BMR calculators is that it is installed on your computer, you can access it without internet connection, it is lightweight and fast and you can put it on USB or removable disk, and it calculates BOTH - BMR rate and BMI index. This free little program is my effort to help fight growing obesity problem caused by modern way of living.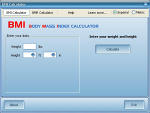 BMI means "Body Mass Index" (BMI). It is a number derived from your height and weight. BMI often indicates overweight problem and can be usefull in determining potential health risk. Typically, a BMI index between 20-25 is considered normal and healthy.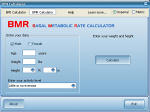 BMR means "Basal Metabolic Rate " (BMR). It simply represents the number of calories your body uses for maintaining energy level through a day.
random advice
You can speed up your metabolism with training. For dieting, having a slower but longer activity is usually better than quick burn off. Speed walk is great.
NEWSFEEDS
Common chemicals in plastic linked to chronic disease
Chemicals found in many plastics, called phthalates, have once again been linked with a range of chronic conditions, including type 2 diabetes.
Childhood obesity major link to hip diseases
New research published in the Archives of Disease in Childhood journal, shows a strong link between childhood obesity and hip diseases in childhood.
Cosmetic Surgery: Would You? Have You?
Earlier this year the FDA approved the use of silicone gel-filled breast implants after years of health concerns. This comes at a time when cosmetic surgery has never been more popular. Would you undertake a cosmetic surgery procedure? Why? If you have had surgery - what have you gained from it?...
Could smelling our food lead to weight gain?
A new study finds that mice that lack a sense of smell do not gain weight and burn fat quicker, despite being fed a high-fat diet.
Artificial sweeteners: Weight loss friend or foe?
Millions of people routinely consume artificial sweeteners. New research shows that artificial sweeteners may increase the risk of weight gain and obesity.