What is bmi calculator?
BMI Calculator is FREE computer program which calculates your Body Mass Index and Basal Metabolic Rate and tell you if you are underweight, normal, overweight or obese and tells you the amount of calories your body uses to maintain the weight. Those kind of informations are important to have on hand for any dieting plan. BMI Calculator is desktop computer program - its advantage over online BMI and BMR calculators is that it is installed on your computer, you can access it without internet connection, it is lightweight and fast and you can put it on USB or removable disk, and it calculates BOTH - BMR rate and BMI index. This free little program is my effort to help fight growing obesity problem caused by modern way of living.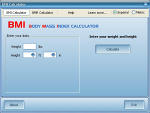 BMI means "Body Mass Index" (BMI). It is a number derived from your height and weight. BMI often indicates overweight problem and can be usefull in determining potential health risk. Typically, a BMI index between 20-25 is considered normal and healthy.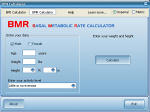 BMR means "Basal Metabolic Rate " (BMR). It simply represents the number of calories your body uses for maintaining energy level through a day.
random advice
Atkins diet is a very efficient, low carb and high fat diet that requires great discipline. Although the results can be fantastic this type of diet is not for everyone.
NEWSFEEDS
Best treatments for an overactive bladder
Learn about different treatment options for an overactive bladder, such as dietary and lifestyle changes. Also learn how to monitor an overactive bladder.
Childhood obesity quadruples risk of developing type 2 diabetes
Children with obesity face four times the risk of developing type 2 diabetes compared to children with a body mass index (BMI) in the normal range, according to a study published in the Journal of...
Mediterranean Diet Helps With Allergies?
New research suggests that a Mediterranean-style diet could offer protection from asthma and allergic rhinitis. Why do children in some parts of Europe, such as the UK, get asthma while others, in places like Crete, do not?...
Avocados can help to treat metabolic syndrome, says review
A new review concludes that avocados may help to treat metabolic syndrome by tackling a number of risk factors for the condition, such as high cholesterol.
Specific protein may cause obesity by interfering with brown fat
Scientists find a protein that inhibits the positive effect of brown and beige fat. This may mean the protein is a risk factor for diabetes and obesity.