What is bmi calculator?
BMI Calculator is FREE computer program which calculates your Body Mass Index and Basal Metabolic Rate and tell you if you are underweight, normal, overweight or obese and tells you the amount of calories your body uses to maintain the weight. Those kind of informations are important to have on hand for any dieting plan. BMI Calculator is desktop computer program - its advantage over online BMI and BMR calculators is that it is installed on your computer, you can access it without internet connection, it is lightweight and fast and you can put it on USB or removable disk, and it calculates BOTH - BMR rate and BMI index. This free little program is my effort to help fight growing obesity problem caused by modern way of living.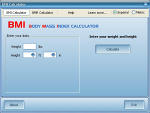 BMI means "Body Mass Index" (BMI). It is a number derived from your height and weight. BMI often indicates overweight problem and can be usefull in determining potential health risk. Typically, a BMI index between 20-25 is considered normal and healthy.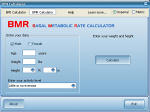 BMR means "Basal Metabolic Rate " (BMR). It simply represents the number of calories your body uses for maintaining energy level through a day.
random advice
There is no need to start off strict dieting plan if you want to get leaner. Body reacts much better in beginning. Just take off sugars and raise physical activity, that should be enough to lose few lbs.
NEWSFEEDS
Faux News: Breast Milk for Weight Loss
This week while trawling the web I came across an article in a Japanese website that talked about research into Lactoferrin. Apparently daily supplements of lactoferrin led to a significant reduction in visceral fat. The richest source of lactoferrin is human breast millk or colostrum. After a bit of research I decided the article was to be placed in the...
Loneliness a bigger killer than obesity, say researchers
Two new meta-analyses suggest that loneliness and social isolation are greater risk factors for early death than obesity and other public health threats.
How To Find Healthier Pasta
WebMD have compared various brands of pasta - in particular those that use whole wheat and have a higher fiber content. Whole wheat pastas are made from durum wheat. Durum is the second-most widely cultivated wheat species (after common wheat). The whole-wheat pastas tend to have a higher protein content (7g to 10g per 2 ounce dry serving)....
Study identifies enzyme that protects cells from toxic fat
A new study from Harvard T.H. Chan School of Public Health and Howard Hughes Medical Institute sheds light on how a key fat-producing enzyme helps protect cells from a toxic form of fat.
Babies of overweight, obese, or diabetic mothers have an increased risk of lung problems
Babies born to women who are overweight, obese or have diabetes during their pregnancy have less mature lungs than babies of normal weight pregnancies.