What is bmi calculator?
BMI Calculator is FREE computer program which calculates your Body Mass Index and Basal Metabolic Rate and tell you if you are underweight, normal, overweight or obese and tells you the amount of calories your body uses to maintain the weight. Those kind of informations are important to have on hand for any dieting plan. BMI Calculator is desktop computer program - its advantage over online BMI and BMR calculators is that it is installed on your computer, you can access it without internet connection, it is lightweight and fast and you can put it on USB or removable disk, and it calculates BOTH - BMR rate and BMI index. This free little program is my effort to help fight growing obesity problem caused by modern way of living.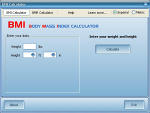 BMI means "Body Mass Index" (BMI). It is a number derived from your height and weight. BMI often indicates overweight problem and can be usefull in determining potential health risk. Typically, a BMI index between 20-25 is considered normal and healthy.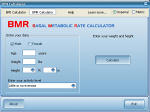 BMR means "Basal Metabolic Rate " (BMR). It simply represents the number of calories your body uses for maintaining energy level through a day.
random advice
Diets that requires minimal intake of fat with moderate carbohydrate intake are usually considered as traditional diets. Those diets requires precise calorie counting and lasts longer than ketogenic diets, for people tolerant to carbohydrates this may be a diet of choice
NEWSFEEDS
Cosmetic Surgery: Would You? Have You?
Earlier this year the FDA approved the use of silicone gel-filled breast implants after years of health concerns. This comes at a time when cosmetic surgery has never been more popular. Would you undertake a cosmetic surgery procedure? Why? If you have had surgery - what have you gained from it?...
Why does dieting not work? Study sheds light
A new mouse study finds a neuroscientific explanation for why limiting the amount of food we eat may have no effect on our weight.
Teens get as much physical activity as 60-year-olds, study shows
Teenagers might get less physical activity than previously believed, according to a new study by researchers from the Johns Hopkins University.
The Cardio-Free Diet
Fitness 'expert' Jim Karas has written a diet book claiming that cardio is a complete waste of time. The Cardio-Free Diet advises us to ditch the cardio: "it kills your time, your energy, your joints, and your motivation" "Cardiovascular exercise kills a weight-loss plan, your internal organs, your immune system, your time and your motivation. If your true goal...
News Roundup and Strange Links
The Worlds Thinnest Noodles Chinese noodle king Li Enhai manages to thread 39 strands of noodles through the eye of a needle. The amazing feat has put him and his noodles in the Guinness Book of Records. Perhaps it's the start of a new diet - eat thinner noodles and lose weight. Obese Weighed on Horse Equipment Hospitals in...