What is bmi calculator?
BMI Calculator is FREE computer program which calculates your Body Mass Index and Basal Metabolic Rate and tell you if you are underweight, normal, overweight or obese and tells you the amount of calories your body uses to maintain the weight. Those kind of informations are important to have on hand for any dieting plan. BMI Calculator is desktop computer program - its advantage over online BMI and BMR calculators is that it is installed on your computer, you can access it without internet connection, it is lightweight and fast and you can put it on USB or removable disk, and it calculates BOTH - BMR rate and BMI index. This free little program is my effort to help fight growing obesity problem caused by modern way of living.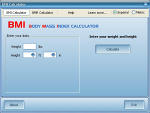 BMI means "Body Mass Index" (BMI). It is a number derived from your height and weight. BMI often indicates overweight problem and can be usefull in determining potential health risk. Typically, a BMI index between 20-25 is considered normal and healthy.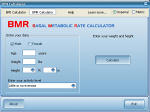 BMR means "Basal Metabolic Rate " (BMR). It simply represents the number of calories your body uses for maintaining energy level through a day.
random advice
Do not take BMI calculations too seriously. There are various body types and individual metabolic rates that BMI does not takes into account. Use BMI as a starting point to gauge your overall body composition. After all, nothing beats good old mirror.
NEWSFEEDS
Avoid fruit juice up to the age of 1 year, say the AAP
Fruit juice offers no nutritional benefit for infants under the age of 1 year and should be avoided, say the American Academy of Pediatrics.
Flavour, Nutrition and Health
Our special guest is Dr. David Katz MD, MPH, is one of the nation's foremost authorities on nutrition, weight control, and the prevention of chronic disease. He is co-founder and director of Yale's Prevention Research Center, medical correspondent for ABC News, nutrition columnist for O, The Oprah Magazine, and the author of a syndicated health/nutrition column for the New York Times. Allan Hunkin talks with Dr. Katz about a lifestyle based upon flavor point management and other information contained in Dr. Katz's new book "The Flavor Point Diet."
The Cardio-Free Diet
Fitness 'expert' Jim Karas has written a diet book claiming that cardio is a complete waste of time. The Cardio-Free Diet advises us to ditch the cardio: "it kills your time, your energy, your joints, and your motivation" "Cardiovascular exercise kills a weight-loss plan, your internal organs, your immune system, your time and your motivation. If your true goal...
Is Healthy Food Too Expensive?
New research has highlighted three barriers to eating healthily; income, education level, and perceived price of healthy food. Higher socioeconomic groups ate less fat, saturated fat and cholesterol and ate more fiber, fruits and vegetables, and had more calcium in their diet. (source)...
Following gastric band surgery, device-related reoperation common, costly
Among Medicare beneficiaries undergoing laparoscopic adjustable gastric band surgery, reoperation was common, costly, and varied widely across hospital referral regions, according to a study...